Giving Your Companions
The Best In Life.
Due to the close quarter nature of kennels, shelters, and training facilities, pets residing in these areas are especially vulnerable to airborne pollutants, strong ammonia and disease.
The Most Powerful Air Cleaning System Ever
BioOx Reactors are small machines that sit discretely in the corner of the room and plug into standard electrical outlets. They contain a mixture of plain water and natural enzymes. Within just a matter of hours of turning on your bio-reactor your air will be cleaner and healthier, and feel fresher as a variety of harmful particles are removed.
Other Machines Filter, Our Bioreactor Scrubs.
Using our patented biotechnology, these freestanding BioOx Reactor units use natural enzymes to neutralize harmful airborne pathogens and toxins.
BioOx Reactor units draw in all forms of contaminants, expelling clean air and making your facility a dramatically healthier and more enjoyable place to be.
Traditional HVAC systems are not only expensive but just move harmful air around.
The BioOx Reactor actually decontaminates the air, by capturing particulates within a specialized all-natural enzyme and microbe solution, rendering contaminants like ammonia (the fumes that cause bad odor), dust, formaldehyde, bacteria and viruses harmless. Installing a BioOx air purification system creates a "clean air zone" throughout your facilities.
Best of all, no filters are needed and absolutely no drilling, rewiring or construction of any kind is required.
Do You Smell Any Ammonia? Neither Do We.
Ammonia fumes are no match for the BioOx Reactor.
BioOx consistently shows its incredible performance in removing ammonia fumes as well as gaseous VOCs quickly and its capacity to maintain those low levels in the long-term is nothing short of incredible.
Bioox Reactor Can Dramatically Minimize
The Risk Of These 5 Pet Illnesses
Canine Parvovirus
is a highly contagious virus that infects the linings of the stomach and small intestines. It may affect bone marrow, cell production, and in some cases the heart.
Puppies have a **91% mortality rate when contracting this virus.
Infectious Canine Hepatitis
is a contagious virus with symptoms from slight fever and congestion of the mucous membranes to severe depression, marked leukopenia, and coagulation disorders.
Bordetella Bronchiseptica
is a bacteria that causes infectious bronchitis in dogs and other animals.
* 78.7% of 'Kennel Cough' cases were found to be positive for this strain.
Canine Parainfluenza
(CPIV) is a highly contagious respiratory virus and is one of the most common pathogens of infectious tracheobronchitis.
* 37.7% of 'Kennel Cough' cases were found to be positive for this strain.
Canine Coronavirus
is a highly contagious intestinal disease. Puppies may exhibit protracted diarrhea and dehydration, and are most at risk of developing serious complications.
* 9.8% of 'Kennel Cough' cases were found to be positive for this strain.
From small kennels to the large veterinarian hospitals, BioOx scales with you.
Whether you're a kennel owner, groomer, or large- scale veterinarian hospital, BioOx systems offers a system that fits your air cleaning needs.
From the compact and efficient 85 series to the titan class 5000 series, our systems can grow as your animal care operation does the same.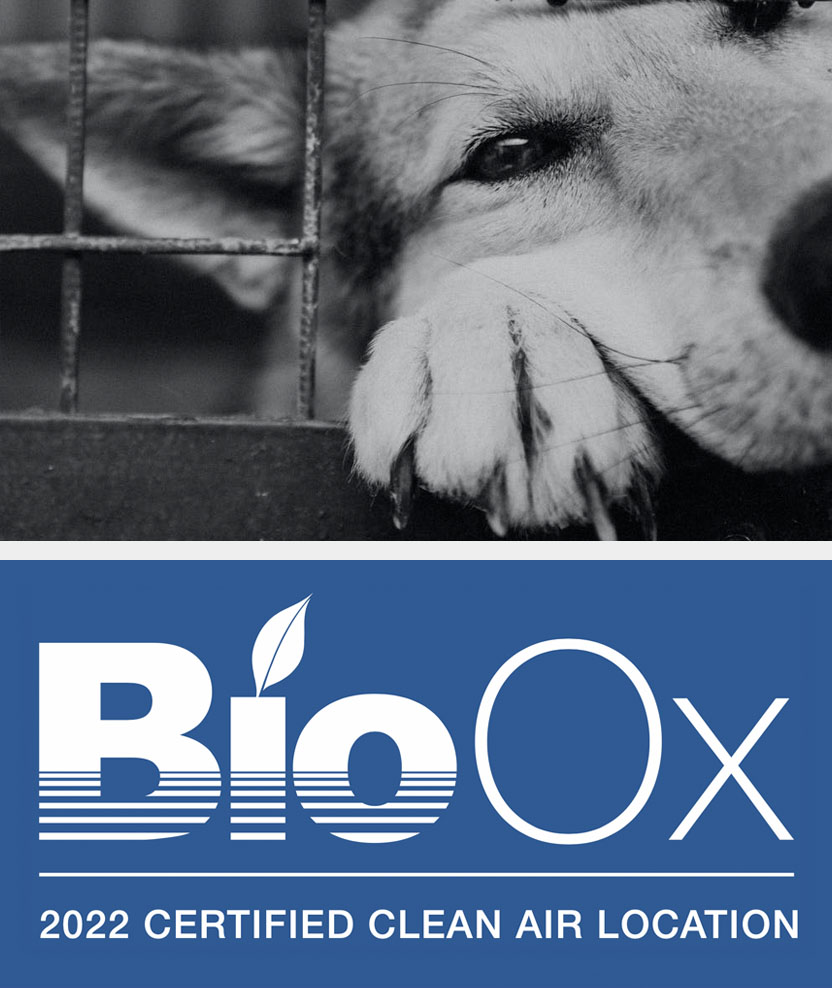 Get Your Seal Of Approval… Ours.
For a limited time, we are certifying kennel, boarding and grooming locations that install the appropriate BioOx Reactor Unit(s) with certification and signage that can be displayed at your facility so that your employees and customers know you're making huge strides to ensure their safety as well as your own.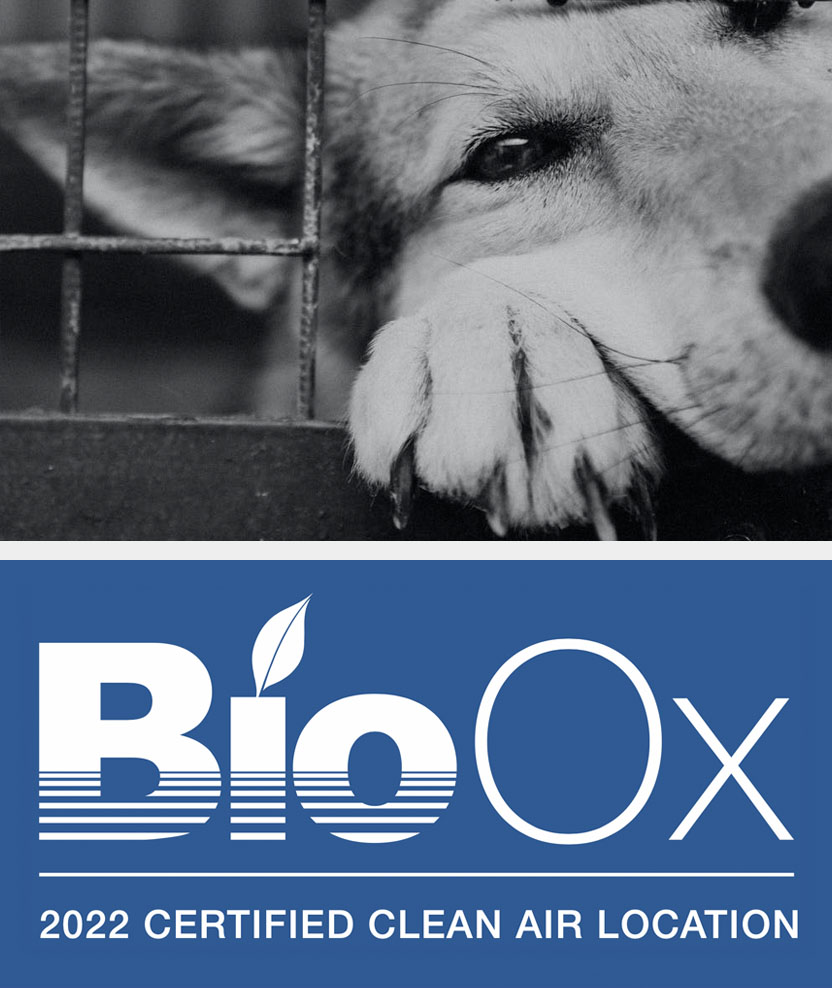 READY TO TAKE CONTROL OF YOUR AIR?
Fast Delivery
Next-day shipping and scheduled deliveries available.
Finance Options
Our finance programs can make the transition smooth and affordable.
Get Help Buying
Have a question?
Call a specialist or message us today.
Call (301) 246-0151
Testing conducted in an independent lab and compared the change in concentration of several public health pathogens – including H1N1, Legionella, Influenza B, MRSA and others.
Testing conducted at a chicken farm during a 20 day duration with 20,000 chickens per house. Ammonia readings measured with the same vent time and vent box opening.
BioOx Air Cleaning Systems are solving air quality challenges in industries around the world. To explore how you can achieve energy efficiency through air quality management, visit us at www.bioox.us, write to us at Air & Water Solutions, Inc., 11 Melanie Lane #23 East Hanover, NJ 07936